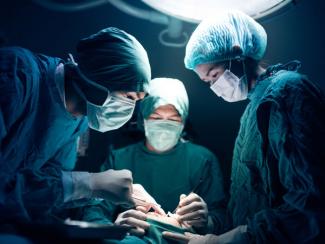 Doctors: What Type of Life Insurance Makes Sense for You and Your Family?
by Mario Yngerto on Oct 20, 2017
MIAMI/CORAL GABLES, FL – As a physician you take an oath to do no harm, but what if, forbid, some harm comes to you someday? How will you protect your family?
This harrowing question leads to a more practical one: what immediate steps should you take to best protect your family? And, with all the different types of insurance available, what's the best product? 
While you should consider all types of insurance (e.g. term life vs. permanent insurance), you should first determine the amount of coverage necessary. A good rule-of-thumb here is a multiple of 5-10 times your gross annual income. That is, if you make $500,000/year before taxes and other pre-tax expense (e.g. retirement plans) then you should have $2.5m to $5m in life insurance coverage. Life insurance is primarily there as income replacement, but can serve other functions.
These "other functions" are what we will focus on today, primarily through product vehicles known as cash-value policies.
What is a Cash-Value Policy?
Cash-value policies are also known as permanent life policies in that they last for the entire life of the policyholder, assuming one pays the appropriate premium. In contrast, you may also purchase term life insurance, which typically covers a period of 10-30 years and then expires. Most term policies do not hold a tax-sheltered cash value that can be borrowed against, but do tend to have lower premiums. In general, term policies have lower premiums, last for a term of 1 to 30 years; are convertible to a permanent insurance plan, but do not build cash value. Cash-value policies do provide a sum certain that can be borrowed against (or passed on to heirs), but also tend to have higher premiums.
Cash-value policies come in various forms, including whole, variable and universal with a portion of the fixed-level premiums paid to the cost of insurance, with the remainder deposited into a cash-value account. This account earns interest that can accumulate tax-free until death occurs and a death benefit paid by the insurer.
There are several additional complexities and considerations regarding the type of insurance that might be best for your personal circumstance. However, it's important to remember that in the aggregate you want 5-10 times your gross income. Our goal in this piece is to stake a claim for the value of cash-value insurance on the whole as part of your overall insurance plan. This claim is underscored by a simple truth: you truly can never have too much insurance.
Asset Protection
For medical professionals there is a constant threat of your assets being exposed to litigation. This liability and risk of creditor exposure makes cash-value life insurance plans a valuable way to protect yourself and your family. In most states, (e.g. Texas and Florida), the actual cash value of your life insurance policy is protected from creditors.
So, if the worst should happen from a liability perspective, your family is still protected.
Liquidity & Cash Flow
While cash-value plans may have a higher premium cost that can put a dent in cash flow, unlike term policies, cash-value plans can provide ongoing liquidity.
In certain policy types the savings within the cash-value plan can actually be withdrawn, tax free, so long as the withdrawal does not exceed total premium deposits. Put another way, if you had paid $100,000 in premium deposits over 10 years, and wanted to borrow $40,000 against that policy this would be allowable; however, this withdrawal or other types of interest-based loans will likely decrease the payable death benefit.
Later in life the accrued cash-value in the policy can also be used to pay policy premiums. This is especially important in retirement when cash flow from employment is diminished or non-existent.
Tax-Free Growth
As mentioned, non-premium payments in cash-value plans are stored in a type of insurance savings account. This cash then grows, tax-free, at a guaranteed interest rate through time. As with most insurance, the death benefit payment is not taxable when passed on to heirs.
In certain instances, if there are enough assets available, physicians may want to look at cash-value private placement life insurance (PPLI), which provides similar benefits to traditional cash-value policies, but allows the policyholder, or an advisor, to make actual investment decisions with the cash held within the policy. These policies typically require sizeable premiums and high minimum assets, but enjoy similar tax-free or tax-deferred protections.
In Conclusion: Which Type of Insurance & How Much?
There are numerous factors that affect which type of cash-value plan is best for you. These factors include your age, income, future earnings potential, family size, immediate cash needs, debt, etc. There are also innumerable products and variations for cash-value plans within the broader whole, variable and universal tranches (e.g. a policy can be indexed or unindexed, premiums can be fixed or flexible, etc.).
Physicians are constantly bombarded with flyers and invitations from insurance providers. We believe the best approach is to work with a holistic wealth manager that can comprehensively evaluate your insurance needs within the context of your greater personal and professional financial model. At Genesis Wealth, this is what we do, with a special expertise in the needs and professional lifecycles of physicians, including life insurance coverage and products. We welcome the opportunity to speak with you. For more information, please visit us at: http://www.genesiswealthmanagement.com/  
Is your life insurance program outdated? Should you review your life insurance program today?
Please Contact Me Directly At:
Mario Yngerto
(786) 393-6960
---
Genesis Wealth Management, Inc. is a fee-only firm led by Mario Yngerto serving the Greater Miami, Coral Gables, Ft. Lauderdale and West Palm Beach area. Mario is a NAPFA Advisor and holds the CPWA®, CFP®, and ChFC designations. We provide Financial Planning and Investment Planning services to our clients utilizing the proven academic research behind Dimensional Fund Advisors. We adhere to the fiduciary standard of acting in the "best interest" of our clients and are only compensated by the fees paid for our investment advice—keeping us free of conflicts and accountable to our clients.